Ascribe to the LORD the glory due his name;
Worship the LORD in the splendor of his holiness. 
The voice of the LORD is over the waters;
The God of glory thunders,
The LORD thunders over the mighty waters

(Ps. 29:23)

.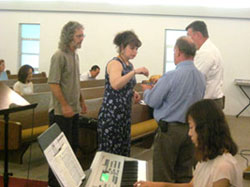 Worship is the most misunderstood activity in the church. People worship God for a wide range of reasons. Some worship to affirm their goodness or to find self-fulfillment.  Others come to further their own will. There are even those who partake in worship to express their affinity toward an individual.  All these reasons point to the fact that worship in our modern time has become all about me.
But worship is all about God who is sovereign. It is to praise & celebrate what God has done & what He has promised, but also for who He is. Our God is holy. He is perfect in wisdom, power & love. All of those were beautifully demonstrated in His only begotten Son, Jesus Christ, who died on the cross for us. Therefore, He deserves our worship and our responses can only be gratitude, humility & love. In fact, we are created to worship God.
So we call out to everyone, who desires to worship the Lord. When you are in His holy presence, you will experience the joy of forgiveness, peace & hope.